What kind of Teener-activity is happening in Armenia, what are they doing there and why did they arrive?  Now we will tell you everything!

Last week, the concentration of Teenergizer activists in Armenia increased dramatically, and all because we gathered there teams from different cities and countries.  
There were 14 of us: activists and activists from Osh, Yerevan, St. Petersburg, Kazan, Krivoy Rog and Kiev, as well as UNAIDS, UNFPA, UNICEF and wonderful trainer Anna Dovbakh!  

Learn and hang out — what we can and love to do, and we do it well!  Therefore, in 3 days in Tsakhkadzor, we managed everything :)

But first things first.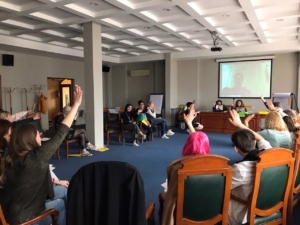 On April 15, we all met, and although the road was long, it was worth it — it was love at first sight!  The atmosphere and the people made the training incredibly pleasant, so 3 days passed quickly, and by the end of the meeting it seemed to us that we had been together for at least a couple of weeks.  

Needless to say, it is easy and comfortable to study in such an atmosphere, and therefore from Armenia we brought with us a huge suitcase of knowledge and, of course, some local sweets :)
What did we study there?  We are eager to share topics:
identity, goals and motivation of activists;

team communication skills;  

specificity of communication at a distance;  

self-presentation skills;

support methods within the organization;  
and many more!
In fact, in practice, much more is remembered than in theory.  And that is why we all tested our knowledge on ourselves. Imagine meeting with politicians, calling up teams and international meetings.  
And when to hang out?  We had a great time!  We climbed the mountain on the lift and looked at the magnificent snow view, played bowling, billiards, walked and talked a lot.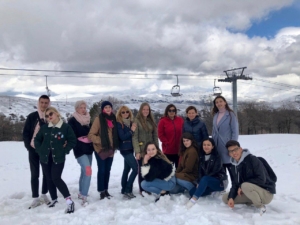 These days in Armenia were productive, intense and emotional. 
Confirmation of this – the comments of the guys:

«It was a very interesting experience and important knowledge on the topic of team building!  The guys were all open and active, which stimulated me to get involved in the process. Flying away, I acquired new knowledge that I will apply in the future, and friends from Russia, Kyrgyzstan and Ukraine!»

Polina Nikitina, Kyiv

«For me personally, this is a great experience and a great store of knowledge, which makes me move forward.  These three days for me passed like a breeze. A few days before the training, there was a lot of thought in my head about who I see myself as in the future.  I decided that maybe it would be nice to develop my business, but the problem is – I don't know how to present myself. But what was my surprise that in one of the days we were told how to do it, taught it.  In general, the child is happy. Now I know that when I return home I can give my team»

Diana, Kazan
«In addition to what we learned about what is happening in other cities and countries in the Teenergizer teams and exchanged knowledge about the conduct of support groups, HIV and internships, we underwent a training session that precisely changed the relationship in the team and brought us together.  Based on the knowledge gained, we will work on errors in the organization of our team's work and, I hope, we will become more efficient»
Zlatislava, St. Petersburg
«We were able to get a lot of knowledge, get to know incredible guys and recharge our batteries.  Now we have a full-fledged vision of how and in which direction we will conduct our activities in Osh»

Madina and Bakai, Osh
We hope that the tradition of such trips will continue for many years.  Wait for more photos and publications from Teenergizer meetings!